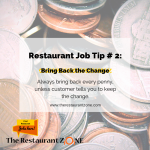 When you work as a server you know the score – the better the tips, the more money you make. It's as simple as that. But there's no guarantee that your customers will leave 10 or 20 percent – or even anything at all. Increase your tips and earn more money with these simple, erm, tips…..

Anticipate Customers' Needs
Don't wait for your table to ask questions like "can I get some more ketchup" or "can you bring more napkins". Bring more ketchup if your customers order burgers or fries. Place more napkins on the table if they go for messy ribs or finger foods. People may not notice the extras but they will certainly notice that they have to ask – which will cut your tip.
Be Quick
Of course you can't always help how fast the food is prepared in the kitchen but you can be on great terms with the chefs so they will help you out from time to time when you need a quick order. Get your orders in correctly and quickly, and make sure you are available when they are ready.
Upsell for Bigger Tips
The more food and drink you sell, the bigger the percentage of tip you can receive at the end of the meal. Know the menu and suggest additions knowledgeably – describe the appetizers or the cocktails so they sound un-missable. Learn the menu so you instantly know which sides go with which main and where customers can find the cocktail list.
Don't Disappear at the End of the Meal
Quiz diners on the server behavior most likely to cut tips in half and they'll tell you about the server who turns invisible once the desserts have been served. No one wants to wave their arms in the air for 20 minutes signaling for the check. Print the check ready and be aware of when your table is getting ready to leave.
Be Passionate and Fun
But don't go overboard. Diners want to relax and don't want you hovering over them laughing at their jokes while offering the dessert menu. Give customers space but be yourself – always pleasant, charming, and low-key, while remaining passionate about the food you serve and the restaurant itself. This shows – and it shows in your server tips.
Hope you enjoyed these tips for improving your tips, and good luck to all your servers!
3497 total views, 1 today