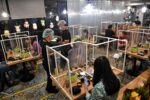 More than six months into the global Covid-19 pandemic, getting customers in the door remains challenging for restaurants. According to a July survey by Azurite Consulting, a management consulting firm, only 64% of customers surveyed responded that they'd feel comfortable dining out within the next two months. That number dropped to 33% for high-risk customers. The biggest takeaway from the survey—customers want to see multiple protective measures implemented when they are going out to eat.
To continue to bring in revenue, restaurants have had to adapt to a market—and a world—where change is the only constant. We spoke to owners, chefs, and managers across the country who've tried various ways to keep their businesses running—and thriving. Here's how they've managed the impossible:
They reinvented menus while staying true to their brand
The pre-COVID experience at Spork, in Pittsburgh, PA, didn't translate well to takeout or delivery, due in part to its interactive nature (often including tableside preparation) and farm-to-table emphasis. So chef/owner Christian Frangiadis created two different experiences. One is a menu that his regulars could enjoy at home Wednesdays through Saturdays that captured the restaurant's spirit but could translate well to delivery (like its house-made pasta Bolognese). The other is a unique, set menu for no more than 12 people, available twice a week at the restaurant, and paired with wine and cocktails. "It's a bit like having a private dinner party," Frangiadis said.
The Front Porch on Main in Tazewell, VA, was always known for its Southern-style comfort food. But Irma Mitchell, its owner, said that the opportunity to reset the menu and hire a new chef—she used RestaurantZone for the search—has increased sales and reinvigorated her brand, with innovative specialties like the Yucatan pulled pork sandwich (made with pork stewed in beer, brown sugar, and green chilis). Overall, Mitchell said, "We're doing better than pre-COVID."
They found new customers and concepts
At first, Yogis Grill in Tempe, AZ, operated with a skeletal staff, even after the restaurant opened up for deliveries. But owner Teresa Nguyen was able to keep all her employees, thanks in part to orders coming from nearby hospitals. "It's been a win-win for us," said Nguyen. "They help employ the team, cover food costs, and enable us to deliver meals to frontline healthcare heroes."
Nguyen also played with the menu and started offering new items that played off the Japanese food her restaurant was known for. Yogis Grill offers sushirritos (sushi burritos), Flaming Hot Rolls, and Jalapeno Poppers. "Customers like that they can try out new things," she said.
They got savvy about safety standards
Every restaurant has had to adapt to more stringent sanitation standards—all of the owners we spoke to reported that they are, at minimum, following CDC, state, and local guidance when it comes to masks, PPE for employees, and dine-in/takeout. But Mitchell also hired a new staff member whose sole responsibility is cleaning and disinfection. Customers often comment on "the cleaner," who is constantly wiping doorknobs and chairs, underscoring the significance, and the marketing impact, of aggressively following safety measures—another reason why the restaurant may be doing so well.
They minimized costs and customer contact
Kevin Healy, who owns The HOUSEpitality Family restaurant group (including The Boathouse, Casa del Barco, and others) in Richmond, VA, has been making use of touchless ordering and payment at his restaurants. Touchless ordering and payment, as well as connectivity to in-house POS systems, are becoming more commonplace, said Healy. "We've even implemented touchless ordering at the table," he said. "Guests can view the menu, order, and pay right from their smartphone." This gives guests the chance to order what they want when they want while limiting contact with employees—and also reduces the cost of printing and upkeep of paper/plastic menus.
Skyler Reeves, the proprietor of Vivili Hospitality Group—the largest restaurant group in the Prescott, AZ area—drew on his nightclub background to implement "bottle service" at one of his restaurants, The Barley Hound. Customers can order a large batch cocktail (like strawberry margaritas or Old Fashioneds) for the table, including glassware and ice, so they don't have to go to the bar and reorder.
They were proactive
At first, Reeves had to make the tough decision to consolidate his three restaurants, running takeout and drive-thru with a skeleton crew after having to lay off more than half of his staff. But once restaurants were allowed to reopen, Reeves found a new way to seat customers outdoors at one of his restaurants—Rosa's Pizzeria, an indoor dining spot only. Reeves approached the Prescott tourism board to help him work with city officials to change city-owned parking spots into outdoor dining for the restaurant, complete with a semi-permanent structure featuring trees and plants. This way, Reeves was able to add about 30% more seating to his patio, bringing the restaurant near its seating capacity. And he's been able to hire back most of his employees.
They banded together
Restaurants have always engaged in friendly competition. But now owners and managers are creating unofficial support groups, like Richmond Restaurants United, says Healy. The group shares advice and ideas as well as lobbies local and state officials for financial aid for restaurant workers. And it hopes to act as a clearinghouse where restaurant workers can get help from vetted sources.
Navigating these challenges hasn't been for any of these restaurants. "This pandemic has been soul-crushing to our entire industry. Of course, where there is a difficulty, there is often creativity and innovation. Restaurants now have a license to reinvent themselves, and many who come out the other side may be stronger, more focused and conceptually tighter than when they started," says Frangiadis.
1680 total views, 2 today