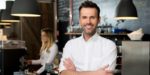 How to Succeed in the Restaurant Industry: Four people share how they climbed the career ladder, from the bottom up
When you're starting off in the restaurant business (or any company, for that matter), it can be tough to see where your career is headed—and whether you should stay in the business at all. But a whopping 80 percent of restaurant owners and 90 percent of restaurant managers started their careers in entry-level positions, according to research done by the National Restaurant Association.
Here are four managers and restaurant owners who did—and what their experience taught them.
1) Brian Poe, Chef and owner at The Tip Tap Room, Parish Cafe, and Bukowski Tavern Cambridge in Boston, MA
How he started: Poe, an Alabama native, parlayed some short gigs as a dishwasher and server into a $4-an-hour job making salads and desserts at the Auburn University Hotel and Conference Center. That job led to a sous-chef position in Atlanta, GA—and a career as a chef across the country and around the world. "I never thought I would be in the business, but instantly I was in love with every aspect of it—including the dish pit/crew," he says.
Best career advice he got: "I am a huge fan of Becoming a Chef [the award-winning book by Andrew Dornenburg and Karen Page] and have given it to most of my cooks. In the book, the authors are constantly reminding you to 'never take the elevator—always take the stairs.' I also had a great mentor and boss who taught me 'It's not how you spilled the milk; it's how you clean it up.' That helps to remove the stress that something just went wrong and helps me to constantly refocus on fixing the situation for the guests," says Poe.
Biggest challenge in his career and how he overcame it: "I think 2007-2008 was incredibly challenging for all high-end chefs. We all had to redefine the way we cooked. During the Great Recession years was when I reinvented my style, from a $35 lobster risotto to a two-ounce lobster in lavender black pepper crème fraiche on top of a grilled avocado-half for $15. But so many great things came from learning to provide a cost-conscious menu. It's allowed me to be able to cook at all price points and to still be able to provide an amazing meal at a high-end restaurant or a dive bar.  And most importantly with different price points during this economy I was able to reach more people with my food."
The secret to his success: "Hard work, a strong moral compass, really good bosses, and then really good and honest business partners. And a great deal of luck."
The career advice he gives his employees: "Never stop learning, no matter what. This business will humble you with the knowledge that although you may be smart, you can truly never know everything."
2) Terence Tubridy, Managing partner and co-founder of In Good Company, which owns and operates eight bars and restaurants in New York City
How he started: Tubridy got his start working in the kitchen of his dad's restaurant, Pier 92, in Queens, NY, where he washed dishes, got ice for the barmen, and eventually worked his way up to a job as a busboy. At 14, he became a barback at another restaurant in Queens. "I enjoyed serving people. I enjoyed seeing a clean bar, a full ice bin, fruit cut, and what it meant to be behind the bar," he says. In 2002, while in college, he and his brother opened a restaurant in Manhattan—and a few years later, they joined forces with a third business partner and started In Good Company. While he'd never seen himself staying in the restaurant field (he thought of becoming a Wall Street broker) "what happened, 'just happened,'" says Tubridy. "My father groomed us for this business, so when the opportunity presented itself it only made sense for us to continue."
Best career advice he got: "Show up on time for work, and remember that showing up on time is showing up early," Tubridy notes.
Biggest challenge in his career—and how he overcame it: "Realizing there is no ladder and no blueprint. When you need help, you need to be smart enough to ask for it."
The secret to his success: "Our core principles: Human, Hunger, Humility, and Hospitality or, as we call it, 4H. It's our compass. Human—we make mistakes, we try not to let process get in the way of people; hunger—we feed people and we are hungry for growing our minds and souls; humility—no job is beneath us and we treat others as we would want to be treated; hospitality—we always create a welcoming environment. Every decision gets run through a 4H. Every team member, guest, and brand must be seen through the 4H lens."
The career advice he gives his employees: "Do not go to school. Take a year off and get a job as a dishwasher or a busser. Learn the business from the basement up. Know early on what path you would like to do, but try and know a little bit of everything. If you are looking to open your own place, find a mentor. As competitive as this industry is, there is a huge support network, if you tap into it.
3) Grace Prutting, General manager of Mimi's Café, Thousand Oaks, CA
How she started: Prutting's first waitressing job, at 16, was at an assisted living center down the street from her childhood home. It was like a mock restaurant, she says, and although she enjoyed it, she didn't think she'd make a career in the restaurant industry. But while she was going to college, waitressing was a source of income. After getting a degree in cosmetology, she decided to waitress at two different restaurants while she figured out what to do. One of the restaurants was Mimi's Café, and that's where she decided to stay—and soon was promoted from server to shift lead, then to assistant manager, and then general manager.
Best career advice she got: "My dad told me the most important part of making a career decision is whether you will be happy to go to work every day. He said it's important to love what you do, and I love working in a restaurant. I love the family feel the staff creates, I love how every day is different, I love the fast pace, and I love working with the community," says Prutting.
Biggest challenge in her career—and how she overcame it: "Learning to be people's boss and to keep them accountable for their actions. It was always easy just having coworkers and getting along with everyone but now I am someone's superior—and it is never fun having to discipline or fire anyone. Over time, though, I have grown a thicker skin and learned how to be fair but stern. I've learned to create a relationship between my staff and me where we have fun but there are boundaries and a level of respect."
The secret to her success: "I've never been someone who just comes to work, punches in and out, and just does the bare minimum. I always look for ways to improve the store without my superiors telling me to. For instance, I saw that the patio at Mimi's Café had great potential to look greater and really become a fun hot spot for dining. It took me about a month but I redecorated the whole patio with my own ideas. I always like to have a side project that's my own to help improve the business. I think my initiative is what has helped me."
The career advice she gives her employees: "Do your best in everything you do to try and stand out from the rest.  My director of operations is the one who promoted me and it's because someone saw my potential and drive that I am where I am now. So keep good relations with everyone you work with and try to show your potential."
4) Kevin Healy, Owner of HOUSEpitality Family restaurant group, which has six restaurants in the Richmond, VA, area
How he started: A New Year's Eve gig as a dishwasher at 15 gave Healy a taste for the restaurant business. After graduating from college in 1976, he became a manager trainee at a restaurant in Richmond and for the next 12 years worked at 25 different places before starting his own restaurant, The Boathouse at Sunday Park, in 1988.
Best career advice he got: "My first boss told me, 'Don't sleep with the help and don't drink on the job.' Who knew he was so far ahead of his time!" Healy says.
Biggest challenge in his career—and he overcame it: "Poor pay, terrible hours, and incompetent supervisors were my biggest challenges. I opened my own restaurant, which only solved two of my biggest challenges—and I'm not saying which two!"
The secret of his success: "Listening to our guests. It's not about what you want, it's all about what they want."
The career advice he gives his employees: "Start small, master the skills, and grow into bigger more complex operations. For example, we started catering at the Boathouse at Sunday Park around 1996.  We began with a crushed red-brick pad next to the restaurant where we put up a tent for each event. The first year we did three events, year two we did eight. We rented everything. We also worked with an outside consultant to develop menus and pricing, and the assistant restaurant manager and I just added the responsibilities to our job so we didn't add any payroll expense.  After the fifth year or so, we built a pavilion and today we have a wonderful facility and garden area where we are exceeding 150 events a year. "
Four people, four different paths—but here's what they have in common: All four worked hard, went above and beyond, and seized opportunities when they presented themselves. So what about you? What was your climb like? Leave the secret to your success in the comments!
3851 total views, 1 today