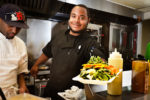 Want managers and staff that stand apart? Look for these hidden traits the next time you interview.
Candidates vying for restaurant jobs all need certain skill sets no matter the position—the ability to multitask, to be flexible, to work well under pressure, and to problem solve.
But aside from those skills are the surprising traits and job experiences that can separate a good candidate from the stellar one you really want on your team. The challenge: At first glance, these attributes seem to have nothing to do with a restaurant position and may be tough to spot on a resume.
We asked restaurant recruiters and consultants to share their list of out-of-the-box traits—and the questions to ask job seekers in order to uncover them.
Humor and poise. "Restaurants are places of 'controlled chaos' and having these traits can go a long way in helping to create the best experience for the guest and the employee," says Jeffrey Summers, founder and principal of Summers Hospitality Group, a consulting firm. To discover them, Summers asks such questions as "When's the last time you really laughed out loud and why?" or "Tell me a joke you would tell a guest. " "For poise I'd ask them about the toughest shift or guest encounter they've ever had and discuss how they got through it and still made it a success," he adds.
A desire to volunteer. Kevin Kuns, president of Pro Management and Associates, always scans resumes to see if the person has been involved in community organizations or charity events. "When I see that on there, I love it, and when I don't, I ask about it because to me it shows a lot of things," notes Kuns. People who volunteer consider themselves to be part of their community—a group that is larger than themselves. It also teaches them compassion, which makes them better managers.
Another plus: Volunteering at a shelter or a Boys and Girls club teaches people how to get along in diverse environments—and that's always a good thing in the restaurant business, notes Sherry Brown, a hospitality recruiter for the Restaurant Zone.
Engagement. Besides humor and poise, Summers also wants to see a sense of engagement, which he defines as "the ability to interact with people across all demographics as well as the ability to seek common ground and understand undefined needs." To suss out that quality during an interview, Summers asks candidates to respond to "why" they give the answers they do.
A military or sports background. Veterans bring back a slew of abilities when they return to civilian life, including organizational skills, leadership, and discipline. They also know the value of teamwork and team building, says Kuns. The same is true for someone who's played sports or coached a team, even on a volunteer basis. Those candidates not only understands team building, they make great motivators and staff trainers.
Independent thinking and creativity. Attention job seekers: If you've ever solved an uncommon problem, put that on your resume. For David Kincheloe, president and owner of National Restaurant Consultants, it shows you are an independent, creative thinker. Recruiters and HR folks can delve deeper by asking managerial candidates what their options were and how they came up with their solutions. These types of questions also work well when hiring chefs, says Kincheloe. To uncover their creativity and problem-solving you can ask, "When you planned your specials, how did you improvise a solution when you ran out of an ingredient?"
A taste for structure and systems. T.J. Schier, a hospitality consultant and the founder of the SMART Restaurant Group, a Which Wich franchisee, looks for people who like structure and systems, as well as those who are a good cultural fit. Of course, these vary from restaurant to restaurant. "Companies need to know who they are so they know whom to hire!" he stresses. To check out someone's ability to thrive within the Which Wich system, Schier has potential candidates do a tour of the restaurant with a couple of the employees (but not the manager). "We want employee input on the person to see if he or she is a cultural fit," he explains.
A desire to go above and beyond. "Anytime someone went back to school or took some classes or a seminar it shows me the person has a drive to succeed," says Kuns. Even if the class had nothing to do with their career, these potential employees are demonstrating they're motivated to go above and beyond the 9-to-5 in order to improve themselves.
Another career. Teachers, social workers, and day care workers may not look like they have much in common with restaurant staff, but in Summers eyes they do: "They understand how to listen and acknowledge, and basically have a more highly developed skill of reading people," he says. "And the better you can read people the more information you have to be able to create experiences that guests will enjoy." Managerial skills are transferable, so a manager at a factory can very easily transfer the traits to restaurants, says Kincheloe. "Managers at a factory develop a process for how something is made from beginning to end, from the supply chain to production," he explains. Plus, they understand things from the cost and revenue sides—which are always good talents to have in any business.
While all these pros agreed that they look for certain traits among top candidates, they all had a different list of surprising attributes and skill-sets. So what's your take? What do you look for when you're interviewing a candidate to separate the good from the great? Let us know!
2835 total views, 1 today