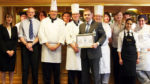 Finding an excellent external recruiter for your restaurant can be challenging.
Having a good partner who can help you hire in this tough industry, can be a real deal breaker. The right type of employees, can be priceless to a business.
The right staff will positively impact restaurants operations and growth potential.
That's why, we wanted to put together some simple actionable steps to identify a good restaurant recruiter and why you should consider working with them.
1) Work with recruiters who understand your core business and industry. Before working with a recruiting agency or individual recruiter. Ask them about their background and who their clients are. It's important to work with someone who has been in restaurant operations. Take a look at our team for example. Also, they should work with a variety of reputable restaurant/hospitality brands small and large. From our experience, we believe niche recruiters in a specific industry tend to be your best bet. They have good expertise and more importantly deeper routed job-seeker connections and a network of candidates that many times you can't find anywhere else. On the cost side of things niche recruiters do tend to be more competitively priced than large recruiting agencies.
2) Ask about how they source candidates. It's important to find an agency that really spends time on finding the right person. Many recruiters in this day and age post jobs online and simply relay the candidates to the client. A high-level recruiter should be looking at both active and passive candidates. It's critical to really "work" the passive market to find a high quality person and ideal fit. In addition, it's also important  that the recruiter stays up with the latest trends and technology with hiring. With technology usuage growing at rapid rates, the recruiter should be familiar with what sorts of resources to utilize to reach the right candidates. With that said, he/she should also be very strong with traditional agency recruiting methods dating back many years. A balance between using technology and traditional methods is KEY.
3) Ask them about their due diligence and candidate screening process. As mentioned earlier, a vast number of recruiters rely too heavily on technology (post ads or online sourcing) and leave out the human touch, which is critical. Excellent recruiters will spend a good amount of time screening the candidate over the phone, via video interviews, in-person interviews, etc. This includes reference checks and doing due diligence on the candidates background/records. At RestaurantZone  we screen out 70-90% of candidates so we're working with top %'s of prospects. Many of our recruiters implement the following screening steps: a) candidates undergo initial email screening and small work assignment b) two to three rounds of phone/video interviews with more than one recruiter on the team c) reference checks d) online due diligence and record checking. Once "a-d" is done then our recruiters setup the interview for our clients. This level of screening is key for finding high quality, professional people. In addition, having several rounds of interviews is key to getting multiple perspectives on the candidate, to help determine whether or not the candidate is the right fit for the client.
4) What attributes should a recruiter have? A business minded recruiter is important. Along with one who has a high level of integrity and discretion. Having a flexible approach is also important along with a sense of urgency. It's important that the recruiter is personable and is very strong with sales/marketing, in order to pitch top talent new opportunities. Communication and interpersonal skills are a MUST for success in finding A-Player candidates. Without these skill sets you're working with a B-level recruiter, and therefore will only attract B-level candidates.
5) What is the cost of the wrong hire? Twenty-seven percent of the U.S. employers surveyed said that just one bad hire can cost their company more than $50,000. A well-known recruiter Jörgen Sundberg puts the cost of onboarding an employee at $240,000. The 2014 Training Industry Report stated $1,200 was spent per employee on training. In addition other costs need to be factored salary, benefits, and most importantly opportunity cost (time). Time can translate to thousands of dollars, hundreds of thousands or millions depending on your business! So just keep this in mind, making an investment with the right restaurant recruiter can really save you time and money in the long run to help find the right hire.
We hope these tips are helpful to your business. Request a Free Consultation Today to speak with a senior recruiter for more information. Or call us at 1-800-513-5096 we'd be happy to help your business and find that superstar you've always wanted!
4056 total views, 1 today