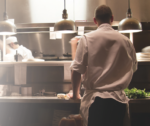 CLICK HERE FOR THE FULL 2017 RESTAURANT INDUSTRY SALARY REPORT
Each year RestaurantZone publishes a free annual salary review; a quick reference guide of salaries being paid across the restaurant industry. We are delighted that we are able to provide our 2017 figures. These figures are based on internal data we have and an aggregate of other reputable sources.
Our clients and candidates tell us that when it comes to salary surveys they find them to be cumbersome documents with too much irrelevant information and unnecessary analysis. What they want is a quick reference guide of accurate salaries. This is what we have sought to supply.
The ranges given in the salary survey are intended to be a guide only. Below is a summary of each position across the US, again you may view the full report here.
Nationwide Summary:
Assistant Manager: $32,458       Catering Manager: $45,705
District Manager: $70,512          Executive Chef: $59,271
General Manager: $55,955         Kitchen Manager: $42,249
Restaurant Manager $45,857     Sous Chef: $42,086
Shift Manager: $26,084              Baker: $27,477
Bartender: $30,909                     Dishwasher: $18,724
Host/Hostess: $23,963               Line Cook: $23,523
Pastry Chef: $35,832                   Prep Cook: $22,134
Server: $22,167
CLICK HERE FOR THE FULL 2017 RESTAURANT INDUSTRY SALARY REPORT

Are you a restaurant recruiting for top talet? RestaurantZone helps restaurants, hotels & hospitality hire the right talent. Learn more here. Or call 1-800-513-5096 to speak directly with one of our seasoned recruiters.
7114 total views, 2 today