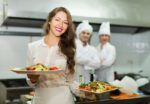 CLICK HERE FOR THE FULL 2019 RESTAURANT INDUSTRY SALARY REPORT
It is our tradition at RestaurantZone to publish each year an annual salary review, a quick reference guide of salaries being paid across the hospitality industry in the U.S. We are delighted that we are able to provide our 2019 Restaurant Industry Salary Report figures!
Our clients and candidates do not like too much irrelevant information and unnecessary analysis. They always want what is quick and accurate. This is what we have sought to supply.
The ranges given in the salary survey are intended to be a guide only. And mind you that this is data is aggregated from restaurants of all sorts of sizes in Upscale, Hotel, Full-Service, Fast-Food & Fast-Casual. Below is a summary of each position across the US, again you may view the full report here.
As you will also see in this report, you will see averages for each state and position. Below we've outlined a few of the positions numbers:
Nationwide Summary:
Assistant Manager: $37,442       Catering Manager: $47,874
District Manager: $68,103          Executive Chef: $61,657
General Manager: $62,511          Kitchen Manager: $40,864
Restaurant Manager $50,089   Sous Chef: $43,371
Shift Manager: $33,144               Baker: $26,579
Bartender: $22,779                      Dishwasher: $21,265
Host/Hostess: $22,287               Line Cook: $26,047
Pastry Chef: $46,420                  Prep Cook: $23,132
Server: $21,997
In addition, on the summary page inside the report we noted increases or decreases from last years numbers. These patterns are certainly interesting and worth observing. Most notably, we noticed that salaries for hourly management employees had a large job. Rising an average 21% from last year! This is consistent internally at our company. Our recruiters noticed an uptick in recruiting needs for hourly management for our clients. More and more clients in this environment are offering competitive pay structures, in order to attract and retain talent. We believe this to also be the case with salaried Restaurant Managers & General Managers. In that segment, there was an average 10.5% increase from last year, in salaries for these positions. Decreases weren't as prominent, except for Bartenders and Host/Hostesses. For more information on every single position inside the restaurant please go ahead few the full report by following the link below.
CLICK HERE FOR THE FULL 2019 RESTAURANT INDUSTRY SALARY REPORT
22438 total views, 11 today