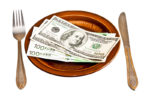 As Mark Cuban says, "Sales cures all".
In today's post hear from the experts and what clients have been doing to increase their restaurants sales.
1) Customer Service & Customer Retention: Need more customers? Do you have a lot customers come in the door of your restaurant, but few returning customers? Watch the below clip NOW, to hear actionable steps to fix this by Jon Taffer (from Bar Rescue) and CEO Gary Vaynerchuk.
2) Increase Marketing & Advertising Budgets: Do you have a social media platform? Are you running paid and unpaid PPC ad campaigns? In this day in age, many people are searching Google for catering services, delivery, and other restaurant/food related services. In addition, the growth of Instagram and Facebook has been explosive. It's important you hire the right agencies or individuals to help you navigate and execute campaigns to increase sales. In addition, the right General Manager should be able to assist with this and manage your online reputation (yelp, and other review sites) which is equally important for sales growth.
3) Hiring A+ General Managers: Having the right GM who is sales-focused and has a track record of increasing sales at his previous jobs is a key attribute for growing your businesses sales. A GM who has marketing, sales skills, and who is strong with customers will easily have a positive impact on restaurant sales. Real superstars will also be able to keep labor, food costs and other expenses stable, in addition train your staff appropriately to help grow the business. Generally, top notch GM's are hard to come by and you should try using restaurant recruiting services to attract and retain top A+ talent.
4) Increase Spend: If you have the right Management staff training your servers and staff to upsell, then this should come naturally and help increase sales. Ordering one extra item at each table can take your daily sales to a new level. Be sure your staff is attentive and reading the right signs to urge additional items. Clients of ours sometimes hold contests for their servers, to see who can upsell the most and then incentivize the staff perform the best.
An important part of running any successful business is assessing and reassessing the way things are running. Many of the basic principles remain the same across all types of dining establishments, so if you follow the basic checklist of attracting new customers while thinking of ways to retain customers, and fill in those basic steps with practical business techniques, you'll be on the road to success in no time!
8814 total views, 16 today