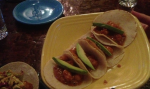 Are you a Guac Lover? I am.
What are the best Mexican restaurants in NYC? Hard to say. New York City the epicenter of lovely ethnic foods and food variety. If you are visiting or live here you can't miss out on the copious amounts of good tasting restaurants. I personally live in NYC and always have trouble with deciding on where to eat. Sometimes I feel like a chicken with its head cut off when deciding to eat somewhere, the choices can be pretty overwhelming! Not to mention if I ate out everyday I would be out of mula $$$ and pretty overweight. So for me every Sunday I make an effort to try a new restaurant. These past few months, I have been obsessed with Mexican food (not going to lie probably been obsessed with it my whole life).
So enough of of my chatter and on to the dirty details below, which is a list of my personal favorites (so far) and in my opinion the best Mexican restaurants in NYC. So if you are in the mood for Mexican food check it out!
*Note I'm not a food connoisseur just a regular guy who likes good eats, so this list is a variety of Mexican restaurants differing in style and price.
Best Mexican Restaurants in NYC –
1) Mercadito – East Village on 179 Ave B between 11th & 12th streets
Great restaurant in the east village, decor is really cool and tropical. Small seating in front and large seating in the back.
On to the food – Had a great appetizer of guac and chips, was fresh.  You definitely want to try the shrimp tacos, they are scrumptious. In a nice smoky sauce and the shrimp pop in your mouth, along with a piece of avocado makes it delicious!
Also, the mahi-mahi fish tacos were amazing. Very tasty, and excellent flavoring/sauce. It was battered fried too. Yum.


2) Fonda – Chelsea on 89 9th Ave
A little pricier, but nothing outrageous. This is a newer Mexican restaurant and definitely worth a try. I have been more than once! The dishes are a little more contemporary, but let me tell you…some of the appetizers are outrageously delicious!
My absolute favorite were these "Tlacoyo Con Hongos" (a black bean masa "boat", spring peas, sautéed mushrooms, salsa verde, salsa chipotle, queso fresco and crema). So delish! The taste of these things were explosive, I didn't expect to like them but tried them out and now I have to get it everytime I visit!

Also, the red snapper and skirt steak entrees were pretty killer!
3) Cafe El Presidente – Flatiron 30W 24th st.
I have a soft spot for this place, I really like the decor and style of the restaurant. Its low key, and the food is simple. Read my full review on this restaurant here. But to sum it up, the carnita tacos are absolutely the bomb! I crave them every once in a while and the portion of guacamole and chips is huge. For the money $, this place is a great option. And oh yeah the fresh juices are very refreshing!
4) Dos Caminos – Midtown 373 Park Ave S
I had always walked by Dos Caminos (there are a few of them in the city) and always saw them pretty packed with people. I began to wonder what the whole fuss was about? And oh man I was in for a surprise, I loved their food!
I actually went on quiet Sunday afternoon with my date, and we were really happy with the selection of food that they offered. Plus the service was outstanding, we had an awesome waiter.
So those are my picks for my personal 'best Mexican restaurants in nyc'. What are your favorites? Feel free to share!
The guac and chips were awesome, with great dipping sauces!
Also, the tacos were awesome. We got to try all sorts of meat/fish tacos, all were enjoyable!
So that about wraps up my list of 'best Mexican restaurants in NYC. Let me know your thoughts, what are your favorites?
5918 total views, 1 today