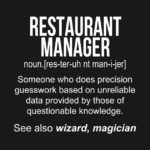 In today's article we detail how to attract, identify and cultivate the best restaurant manager for your organization. Which is increasingly important in the current environment we're in. This 2019 alone, we've seen countless articles naming this year the most severe labor shortages in decades for restaurants and hospitality. Employee Turnover still hovering in the mid to low 70% range and according to a study in Deloitte 2018 Travel and Hospitality Industry Outlook report, "There are now more than 620,000 eating and drinking establishments across the United States, with restaurants currently growing at about twice the rate of the population."

Madness!

Which is why finding and keeping the best restaurant managers has become more critical than ever before.

1) Attracting the Best Restaurant Manager: Let's begin to talk about what you can do to attract the best talent. First and foremost you need to make hiring quality restaurant managers a priority and invest in the resources to accomplish this. 90% of the time a restaurants success completely depends on the quality of management. Having the right management in place allows a business to run profitably and healthily scale with more ease. That means you need invest in a premier restaurant recruitment agency that can help you market your business in a unique way and develop and highlight the benefits of working at your company. In addition, they should be able to help your business attract high quality passive candidates to your brand, can advertise the position online & market it on social media, and send you the most qualified and carefully vetted people for the position.

Setting aside resources to competitively compensate the manager is also very critical. It's important you get creative and setup a bonus structure that allows for success in the position and motivates the manager to want to do well! Create bonuses structures and only pay them based on achieving actual results for the business (e.g. sales growth, cost controlling, profit margin % goals, etc.). Fostering a good work culture will be something you'll also want to begin to create or if you haven't, make a commitment to this! An unhealthy work culture will only attract toxic employees and all the high quality restaurant managers will stay far away. So make this a high priority!

2) Identifying the Best Restaurant Manager: You need to ensure you are evaluating the best possible candidates who are not only experienced, but you can verify their track record with past references. It's important to have your restaurant recruiter conduct deep reference checks and background checks. Soft skills are also incredibly important. Restaurant Managers are the face of your business, and interacting with customers and employees is a huge part of the job. Recognizing opportunities to up-sell guests, provide excellent customer service, respond to online reviews, identify catering opportunities, train staff properly all involve excellent people skills, leadership skills and communication skills! In interviewing thousands of managers, our agency also have identified that attention to detail, ability to act quick, and exhibiting high passion for the industry is paramount.

Countless of times, our recruitment agency is brought into situations to replace underperforming managers, unmotivated or understaffed restaurants. A quality manager can make all the difference. We've seen sales turnarounds, better systems, team morale boost, reduced employee turnover, and a better work environment all because a better manager was put into place. Work with an expert Restaurant Recruiter and get this handled today.

3) Cultivate the Best Restaurant Manager: Many times high quality employees want growth. Allow for opportunities for your restaurant manager to grow and don't cap their growth or be fearful of it! Allow them to do things they are good at and with time get them off of administrative duties and low dollar tasks. Give them more responsibility and allow them to focus on high impact producing dollar tasks, invest in their growth, give them training, new technology, tools and set them up for continued success. Focus on their happiness and listen to them regarding the business. The book Scaling Up (Rockefeller Habits 2.0) by Verne Harnish talks about the importance of soliciting feedback from "front-line" employees meaning "customer facing" employees. As this feedback, is critical data for your business and allows you to improve customer experience, implement better systems and make larger impacts on bottom-line growth. So listen to them. Collaborate with them. Ask them for their suggestions, empower them and ask them for feedback on what you can do better to help them reach their goals. Stay highly committed to retaining your best talent, do everything it takes and be creative when it comes to retention. Do all this and your employees will not only stick around but your restaurant business will flourish.
About the author:
Matthew Rodgers is CEO of RestaurantZone a nationwide recruiting agency that helps restaurants, hotels & hospitality hire excellent people to fuel growth in their companies. Matthew and his team of recruiters & consultants have anywhere from 5 to 35+ years experience in restaurant/hotel operations and recruiting experience across various sectors and brands in this industry. RestaurantZone is passionate about helping brands reach their goals through hiring and have a variety of solutions to offer clients. Learn more here.

3337 total views, 1 today