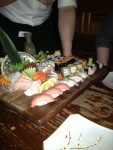 So I decided to do a little restaurant review on Blue Ribbon Sushi in NYC on Sullivan Street. Here at the Zone not only are we here to help restaurants, restaurateurs, and all sorts of related users businesses. But also we are BIG FANS of eating out at different restaurants. So we thought, why not share some of our thoughts on different restaurants we have been too.
Anyways, on to the Blue Ribbon Sushi NYC review. So, I went to the restaurant this last weekend, celebrating one of my good friends Birthday. Its located on Sullivan Street and is sort of hidden away on the ground level (kind of like a basement). It was a cold day, so the little cozy restaurant was a perfect option. Had no problem getting a table around 6pm without a reservation (keep in mind they don't take reservations), and were seated immediately and served with hot towels to wash our hands and examine the menu.
We started the night off with an order of hot sake, and Miso soup. Both immediately warmed us up and was very tasty. They had a lot of options of different sake and it was smooth going down. The miso soup was standard, except the miso paste was served on the side, allowing you to decide how much you want in your soup. Thought that was pretty cool.
On to the main dish, where we decided to splurge and order the Blue Ribbon Special platter! This platter was amazing, since we didn't have to make any decisions. We left it up to the chefs make the rolls and provide us with the unique experience and tastes they had to offer. The Blue Ribbon Special platter feeds up to 2-4 people,  and runs around $160. We  split it between the 3 of us and it was definitely enough food. I would try to recall all the pieces we ate but can't remember what they were all called (see for yourself below). However, we had a lot of rolls I hadn't tried before which was really exciting. From what I did recognize, I saw some standard salmon sashimi, tuna, white fish, rolls wrapped in grilled salmon skin, avocado rolls w/sushi (that were so delicious!). The sashimi melted in your mouth. Take a look at the picture below:
I would highly recommend this dish if you want to take a risk and try something new and eat a few of your familiar favorites. Overall everything was perfect and was definitely pretty high quality sushi.
Overall I would rate the restaurant highly. Staff was nice and explained everything we were eating and was very helpful. I would definitely return, as it was a great splurge! Yelp gives it $$$ …I would say that is about accurate. Food in my opinion was close to maximum stars, but then again I am pretty easy to please and not a picky eater. Anyways, that's my Blue Ribbon Sushi NYC review. Feel free to check out the other reviews yourself and the site (below):
http://www.yelp.com/biz/blue-ribbon-sushi-new-york?nb=1
http://www.blueribbonrestaurants.com/
4326 total views, 1 today