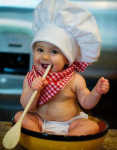 We all know Chefs can cook up delicious meals but, alas, they often aren't the best marketers. Unless you are incredibly cute and can charm the pants out of a recruiter and employer. Like this champion below…
I'm assuming if your reading this you aren't a cute baby, and all jokes aside you may be a chef who knows how to cook up a mean Turkey Tenderloin with Cranberry Walnut Stuffing and melted Brussell Sprout leaves, but do you really know how to communicate that through your resume effectively?
In this article today, we are going to go over 5 Tips and also include a sample resume for you to take a look at! Scroll down for the sample resume, if your interested in seeing it (it's a pdf file).
So without further adieu, below are 5 tips that will help you heat up your resume:
Add a professional photo of yourself in a chef coat
Place the photo right next to your name on the top right corner. A photo always makes your resume more personable, and will help you stand out!
Include a career summary
It's always important to let future employers know what you are interested in specifically, and what your objective is.
Let recruiters know how much the restaurants you worked for made in annual sales
Numbers, despite the position always grabs the eye. So including them can only help you and the appearance of your resume. They are something tangible!
Include professional photos of your signature plates and PDF your sample menus
Why not ? Go above and beyond and show them your passion. Having a bunch of photos of your works, will immediately suck in your employers attention (biologically, they won't be able to resist!).
Include any publications you've been a part of.
Whether it's Kickstarter or a local food magazine, social proof will get you noticed.
If you're interested in seeing what an actual ideal resume looks like take a look below. We included an embedded pdf of what it looks like and a full-page version, both are available for download. Keep in mind we omitted all private information on this particular chef, we appreciate you respecting this!
And as always, please feel free to share your tips and what has worked with you in the past! And don't forget once you have that perfect resume, you can email us, so that restaurants & recruiters can see it! Have a great day!
5071 total views, 1 today