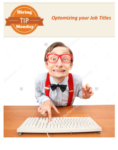 We speak to recruiters and HR professionals daily and we're always gathering insights into how they work and what is the most effective to them when it comes to attracting the right talent. With every conversation, we notice that combinations of different strategies work for each recruiter, company and/or HR team. And we can certainly learn from them!
For today's post I wanted share a few of those insights from our clients related to "job titles" and the importance they play when you are advertising jobs on job boards (or anywhere where a large audience can see your job and apply). I'll dive right into it.
We noticed that many of our successful recruiter clients experiment with catchy job content (they put themselves in the shoes of the job-seeker) and "market" to them. We also noticed that others are really upfront with compensation. As we learned in a previous blogpost, compensation is one of the leading factors that motivate job-seekers to apply. That's why some of our recruiters were listing compensation right in the job title. When I first heard this I thought to myself that's a bit "cheesy" or "spammy" to do so (especially if it were something like "Executive Chefs $$$ 100K+" or something like that). But who am I to judge? This one recruiter in particular was having tremendous success with getting applications and hires with this tactic.
Anyways, we really wanted to put this to the test! We have team of resume specialists that are constantly doing this work for clients (when they're finding them resumes/applications), so we decided to conduct a bit of our own testing/research on this topic and discovered many different things. So we posted 2 jobs at the same time, same date, identical content, but simply different job titles (one job title with some compensation details vs. one without). The results are below (click image to enlarge):
Pretty crazy, right! Practically double the applications (31) on the job title that mentioned something about compensation in the title.
Over the past couple months we've conducted a lot of different tests on different titles and found some very interesting results. We noticed different "types" of applications coming in based on the title (e.g. some titles attracted more fine-dining applicants versus fast-food, etc.). Let alone testing out different styles of "content". Direct-response marketing content versus traditional copy-writing…and the list goes on. Those topics can be saved for another day.
With this age in technology fine tuning a hiring strategy is an evolutionary process and requires recruiters to adapt with all the changes going on but also at the same time also stick to fundamentals that work. We recommend testing new concepts and seeing if they work for you. I hope today's tip helps you out with your hiring efforts, and feel free to tune in every other Monday for more tips!
4120 total views, 1 today