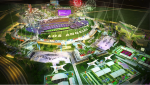 Game Day LA: Los Angeles Football Eats
Despite the fact that Los Angeles hasn't had an NFL team since the Raiders and the Rams moved to Oakland and St. Louis in 1994, it doesn't mean there is a lack of football fans in the City of Angels. Rumors of an LA based team have been flying around for years, as have proposals to build a Los Angeles stadium in all corners of the city. However, many would agree that LA is a transplant city, meaning most Angelenos' loyalties lie to their "back home" team.
This makes the LA sports bar scene a mixed bag. You'll see a Boston Patriots fan and a Baltimore Ravens fan clinking their glasses of local craft beer, and high fiving a Green Bay Packers cheesehead. The culture of being a football fan in LA outweighs that of any specific NFL team, so what better way to celebrate game day than with what everyone can agree on: the food.
The only thing I actually like about football is the food. I look forward to the Super Bowl because fans are just as dedicated to the snacks as they are to the game, and there is a never-ending supply of the quintessential football food: chicken wings. There may not be a Los Angeles NFL team yet, but we are in no short supply of wings, and I'm not talking Buffalo Wild Wings or Hooters. Whether dining in or taking out, these LA wing spots will make your game day a little more delicious.
The Black Cat: This restaurant/bar in the center of Silverlake, right at the Sunsent Junction is an upscale spot, but they aren't afraid to get their hands dirty with their fried chicken wings. These Asian inspired wings with soy, sake, ginger, fried chili oil, and lemon, have all the flavors you want, and are available on their lunch, dinner, and happy hour menu, so you can get your wings fix any time.
3909 W. Sunset Blvd. Los Angeles, CA 90029

Dan Sung Sa: If you're up for a trip to Koreatown, this place should be your first stop. Unlike the popular Korean BBQ restaurants that are on every corner, Dan Sung Sa is Korea's version of bar food. Their menu includes chicken gizzard and beef intestine skewers, but the item not to miss is the fried chicken wings. Just a hint: I like spicy food, but I always order the sauce on the side. Great if you want to add some fire to your traditional chicken wings.
3317 W. 6th St. Los Angeles, CA 90020

Ye Rustic Inn: This might be the only place on this list where you can actually watch the football game. This Los Feliz dive bar is located in a strip mall and is the dark, no frills kind of place that is harder and harder to find in LA. Ye Rustic claims they have the "Best Wings in LA," and I can't exactly prove them wrong. You can order your wings mild, medium, hot, or suicide, and are the kind of wings that go perfectly with a side of football.
1381 Hillhurst Ave. Los Angeles, CA 90027

Whatever team you're rooting for, I hope all you Los Angeles NFL fans can improve your game day with some excellent chicken wings selection. Or if you're like me, this might give you a reason to get into football.
Molly is a guest writer here at the The Restaurant Zone. If you enjoyed her post on the Los Angeles Stadium / Football, and Football eats, let us know (comment below). 
3591 total views, 1 today