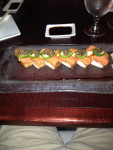 My Momoya Review
Recently had an excellent dinner at Momoya, so I figured I would write up a Momoya Review here. Before I get into the Momoya Review, let me just clarify a few things. I dined at the Chelsea location located on 185 7th avenue (right at the corner of 21st street and 7th ave). They have two locations one in Chelsea and the other in the Upper West Side. I went to the Chelsea one around 7:30pm, when it was pretty packed. Also I have dined there a few times at the same time, and have noticed that the restaurant gets pretty full at this time. So if you are in a rush make sure you get early to reserve seats, I am not sure if they do phone call reservations otherwise try calling them to double-check (212-989-4466). On to my Momoya Review, here are my key takeaways:
Restaurant is clean and the decor is pretty slick looking. Dim lighting at the tables at night and definitely a

great date spot,

 ladies and gentlemen 😉 . You can also sit at the bar which is more lit and can watch the sushi be prepared as well.
Started with a Miso Soup which was pretty standard, tasted fine. Was hot, can't ask for much more here. Check. 
Had the famous crispy rice roll! Just ask for the crispy rice roll, I'm not sure if I see it on the menu's (link below). Check out the pictures of this roll below, it is absolutely delish! Basically it has a base of crispy rice (almost sure some of it is fried), then spicy tuna, and topped with mushroom and a small jalapeno. Marvelous! An overall really great tasting roll and the crispyness makes the dish.
Had a Sashimi Combo platter, pretty standard. Great variety of sashimi and all of it was mouth melting! I recommend telling them to give you salmon where they lightly "fire" it or burn it (they have a tool for this) and comes with a bit of the skin. This alone for I believe $29 can be a dinner, and definitely a healthy one.
Momoya Spicy Tuna – also another great dish, I only tried a roll of this but loved it. The tuna has yellow tail and an almond. This was very tasty.
Overall I found the sushi rolls to be pretty unique and very tasty! Pricing is reasonable, a little more on the higher side but definitely worth a try if you are in the area.
Anyways, thats all for my Momoya Review. Check out the Momoya menu yourself at the link below and pictures of the dishes I ate. http://www.menupages.com/restaurants/momoya-chelsea/menu
Did you enjoy this Momoya Review? Let us know and feel free to comment below or email us. If you are interested in a review on a particular restaurant or if you are a restaurant who would like us to provide an honest and subjective review – contactus@blog.therestaurantzone.com and talk to us!
7851 total views, 1 today