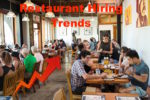 The data is ready!
We analyzed hundreds of our clients and tens of thousands of search queries / web visits from all sizes of restaurants (employers) that utilize RestaurantZone. All from a variety users in the restaurant industry that use our software / website, to also clients that work with our management/executive restaurant recruiters.
End of year 2017 had a lot of interesting points, so let's dive right in.
First, let's look at RestaurantZone's software offering. Specifically it's passive candidate database. We'll observe the search patterns of what type's of hires restaurants (employers) are looking for most often:
As you'll see from the above, we found out that the most frequently searched term by our clients are  "Restaurant Managers" which is in average of about 30.17%. The second most often need, searched by our clients is "Cook / Chef", which is about 18.31%. The less often can be found "Financial Analyst" and other corporate level roles all less than 1%. Most notably, a very interesting statistic were clients also often using the names of Brands or Companies for searches, about 15.95%. A pretty high number. This indicates that a larger number of many restaurants are looking to poach or target other companies brands….cut throat!
Moving on, let's look at RestaurantZone's Recruiting Service arm. A funny random fact, Tuesday tends to be the day that we see new clients wanting restaurant General Managers & Executive Staff, the most!
26% of new users visiting our website looking to hire Executives, District Managers and General Managers pick Tuesday to be the day to reach out and commit on hiring new A+ quality personnel! Strangely, our recruiters report the most calls on this day, and we see the most website requests come in through our systems highest on this day.
Furthermore, we found that over the course of 2017 "General Managers" & "District Managers" covered over 50% of searches conducted by our internal team of recruiters. Right after that was Kitchen Managers, at a 22.5%.  Notably moving into the beginning of 2018, we're continue to see the same trend but also seeing lots of restaurants hiring our recruiters on a part-time basis for hourly recruiting tasks. Could be because of lots of new openings happening in 2018, we don't have exact numbers to share on that yet but we will soon enough.
Hope you found this restaurant hiring trends report helpful. We'll be collecting data this 2018 so we can run some "comparables" going into next year. Until next time!
3756 total views, 1 today