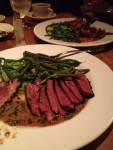 So I recently spent some time in Pine Plains, New York away from the city, to get some fresh air! Anyways, I thought I would write a Stissing House review since it was a french restaurant I really enjoyed in Pine Plains. Originally, we drove over there on a Friday only to find out that the entire restaurant was booked for a private event. So beware, call in advance before you head over to the restaurant! It definitely looks like a great restaurant to rent out for an event, so those interested can do by following this link below:
http://www.stissinghouse.com/events.html
Anyways, back to the actual Stissing House Review, and on to the juicy details. So we went there on a Saturday night, without a reservation and were able to get a table immediately. The restaurant space is really charming and has a really warm and welcoming feel. I would describe it as having a old colonial ambiance. l I also noticed private rooms with tables for larger parties, however, for us it was just the two of us so we sat close to the bar in the dining room. The restaurant had a french style to it and I know the chef is french as well.
This is what I ordered:
For appetizer: The Maryland Crabcake: It was in a  remoulade sauce with slaw. Pretty standard and I am a huge fan of crabcake, so I am a bit biased, and really enjoyed this. It was breaded well, and tasted fresh. Not really a french dish? …but hey no complaints over here.
For Entree: I had the D'Artagnan Duck Magret which was pan seared. It was juicy and cooked medium rare, in a wonderful sort of wine sauce…just a guess. I really enjoyed the taste, along with mixed vegetables. See below:
For Dessert: Finally Desert, probably the best part! I had a chocolate souffle with homemade and fresh whippped cream. Both were heavenly and so tasty and light. I believe that this dish can be seasonal, so if you are looking to splurge go for it!
Overall I would rate this restaurant 4 stars out 5. Service was fine and the food was tasty. I would have liked to see more french dishes on the menu. Well that's all for now for my Stissing House Review, go check it out yourself if you are ever in Pine Plains or Rhinebeck!
3156 total views, 1 today