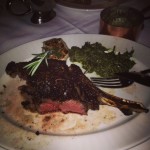 So I figured I would write a  Strip House NYC Review, especially after having dined at the Greenwich Village restaurant the other day. I am going to break this down easily and include a few highlights here:
This place is like one of your typical "American Steakhouses". The decor is classic – simple, dimly lit, traditional in a sort of 1960's smoking room/retro style. Additionally, its very "business" like, I noticed a lot of business/finance people here with clients.
Come here to eat steak, its a steakhouse. The steak was glorious. Probably one of the best "American" steaks I have had in NYC! Perfectly cooked and seasoned, and melted in my mouth. I would definitely return for this (I highly recommend trying the 20 OZ. Bone-in Rib Eye).
Try the sides out, they are well worth it! I decided to go with the creamed/truffle spinach. This was a perfect side and was enough to feed two people.
Desserts looked awesome, but I had no room left to try them! Check them out though.
If your intrested in seeing more about the restaurant and the menu – check it out here – http://www.striphouse.com/menus-and-food
Additionally, you want to see more Strip House NYC Reviews check out what Yelps users say, they rank the restaurant 4 out of 5 stars, with $$$$ (so don't forget your wallet, because it is on the pricey side).
 http://www.yelp.com/biz/strip-house-new-york-5
Well that's all for now for my Strip House NYC Review, and also I figured I would include a picture of my meal- take a look!
4790 total views, 1 today