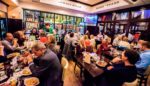 Say the words "high-volume restaurant," and people instantly think of chain establishments—loud, chaotic places where diners turn over quickly, servers and staff hustle to put food on the table, and no one is leaving a big tip. But these types of restaurants are places where you can quickly pick up valuable skills, like accountability, seeing the big picture, and thinking ahead.
So what traits do prospective employees need to thrive in such an environment—and do you have the right skills to succeed? We talked to three experts in the restaurant biz to find out.
Traits You Need to Thrive in a High-Volume Restaurant
You like to learn things—and aren't afraid to ask. "At a high-volume restaurant you're dealing with a broad set of services, including multiple beverage offerings, foods, pastries," says Natale Servino, the manager and co-owner at Servino Ristorante, in Tiburon, California, which puts out over 1,000 meals every day during the tourist season. "With so much information to be absorbed and tested at a faster pace, you are going to run into situations where you're faced with something you don't know. If you have a willingness to learn, you'll find out the answer instead of making something up and digging yourself into a hole."
You're ready to hit the ground running. Working at such a fast-paced place requires a lot of energy, notes George Bean, the bar manager at Honu Kitchen & Cocktails on Long Island, NY, which serves up over 500 dinners on Friday and Saturday nights. "You need stamina to work long hours, most of the time without a break or food", he says.
"Be prepared to walk," says Christian Darcoli, Servino's culinary director. "Some larger places have stations throughout the restaurant, which makes it easy to get an item for a table, but others might not have the configuration for that in the middle of their dining room." In other words, it's a long way from the kitchen to your table. At Servino's, the staff walks up to two miles a day!
You probably won't get eased into workplace, either, says Servino. "You're going to be given a lot of responsibility and info all at once, but it's very exciting."
You look beyond your own area. Customers think of the restaurant as a whole entity, so the staff has to think that way too, explains Servino. "You can't be driven by individual incentives—for example, thinking that just because the diners in your section are happy you're doing your job," he says. Instead, you have to be aware of what's going on around the restaurant as a whole, so you can attend to any diner before that person asks for something.
What You Can Expect
Lots of challenges… For Bean, it's all about the customers. "Keeping your guests happy is the most important, and challenging, thing," he says. "If you're a bartender, the show is right in front of them so always keep them entertained."
The pace can be pretty hectic too. "You have to consider extra distance in a larger space. Smaller things can be time-consuming if they are not handled efficiently either," remarks Servino. "It's important for the staff to prepare ahead of time. If it get's busy and they don't have the resources they need to provide high-quality dining service quickly, it can be hard to find those resources, whether it's having enough pens or ensuring that the water stations are properly stocked."
…And perks too. Having more people on staff can work in your favor. For one, that means a more flexible schedule since there are more people to cover shifts, says Darcoli.
For another, you may be working with up to 15 people on your shift, which means you get a crash course in teamwork, says Servino. In order to attend to every customer in the place, whether they're in your section or not, you have to learn to get along and work with your coworkers.
For Your Interview
If the demands of working at a high-volume establishment appeal to you, here is what you need to know as you meet with managers and recruiters.
Experience counts, but not as much as you think. "I am always focused on prior restaurant experience. It's a must, even if it was washing dishes," says Darcoli. The good news: You don't need a lot, notes Bean. "From a small kernel of experience, I have turned people into superstars. They were diamonds in the rough," he says. "Many didn't know that, for our restaurant, being on time meant being late. I sat them down to explain how they could improve: come in early, know their duties for the day, etc. They weren't going to get everything right the first time so I demonstrated certain tasks, such as making specific drinks, if they were having trouble."
Come prepared with questions. "You should always ask about the ambiance of the restaurant, and how new people fit in. It's also important to understand what your prospects are for advancing your career within the restaurant and the company," Darcoli suggests.  So for sure ask about training programs and other ways you can climb the ladder. And don't forget the little things. "Bring a pen," says Bean. "You have no idea how many people have come into the restaurant looking to fill out an application, but they don't have a pen. It just shows unpreparedness."
Play up what you learned at your last job. "I look for what a person took away from their last job. What was their 'aha' moment?" says Servino. And if you're interviewing for a kitchen staff job, make sure you let the interviewer in on your knowledge of ingredients and how well you work with others, says Darcoli.

"If you know how to get along with your co-workers, you can handle anything new that comes up with more ease as a team."
If you've worked at a high-volume restaurant, what tips would you add to help prospective employees thrive? Add them in the comments! 
10907 total views, 3 today