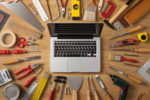 This article outlines 12 recruiting tools for restaurants and hospitality professionals. This is based on research and what some of our clients/partners (who are mainly recruiters and human resources professionals) have been using. But really anyone who is working on hiring and recruiting can probably benefit from using at least several of these restaurant recruiting tools:
1) For job-seeker outreach and texting candidates from your computer you can try: Google Voice or TextRecruit.
2) For transforming your job ads into elegant video advertisements. Try Ongig. You can showcase your restaurants, your team and culture this way. Nothing beats a video.
3) Social Media sites like Linkedin allow you connect with industry professionals and talent. Especially all sorts of chefs and managers. You can also try out a tool called Salestools.io which allows you to find email addresses from Linkedin users that you're not connected with. Another neat tool to "prospect" for job-seekers.
4) Automated Job Posting for writing better job postings (contains machine learning technology). Try Textio. 
5) For emailing multiple job-seekers at the same time try email marketing applications like: MailerLite, Mailchimp, ConstantContact, or Aweber. This is also a great way to stay in touch with candidates, especially if you send out newsletters or content.
6) Quick pre-screening video interviews, you can try applications like: Google Hangouts, Skype, or Join.me.  Additionally, Join.me is really great for conference calls especially in case you want to do a group interview.
7) Job Board Advertising & Hiring Sites: Craigslist and Snagajob for hourly positions. Careerbuilder and Indeed are generally speaking better for management. It varies depending on Job-Seeker behavior as they usually bounce around different sites. RestaurantZone is of course the best for both 😉 but I'm heavily biased. You could also try restaurant recruiting services if you really need high quality people or when it's a tough role to fill.
8) Applicant Tracking System: I've had several of our clients in the space tell us they like Zoho Recruit. Features include resume parsing, job board posting, CRM, and much more.
9) Facebook Groups and Linkedin Groups can be great opportunities to connect with restaurant/hospitality talent. You could also utilize other social media platforms like Instagram, Twitter and others to connect with younger generation/millennials. Just be sure to keep communication "social".
10) A personal assistant (based on artificial intelligence, so not a real person) to help you book meetings and other time consuming things! Visit x.ai to check it out.
11) If you'd like a real personal assistant to screen resumes, post job ads or any other sort recruiting related work. Try freelancing sites where you can hire part-time or full-time virtual assistants for this. Such as Upwork, Freelancer or Zirtual.
12) Last but not least. Sourcing resumes online off free websites to help with your talent search. These sites include: PostJobFree, Jobvertise, and more! See the full list here.
Hope you found this list helpful and as always happy recruiting! Also, if you're happening to be looking for restaurant recruiting services or a restaurant recruiter to help you hire quality talent for your restaurant. Call us at 1-800-513-5096 and we'll have a senior recruiting specialist point you in the right direction!
14808 total views, 2 today