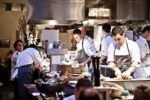 Let's face it. Hiring can be really tough!
Especially in the restaurant/hospitality industry.
High turnover rates. Tough to fill roles. New restaurant openings. Short staffed locations. And the list goes on and on and on…
That's why we have compiled this list of the 15 best restaurant job boards, hiring sites & resources to help you with all your hiring needs in the hospitality industry.
Restaurant Job Boards & Hiring Sites:
1) RestaurantZone: Is a platform that helps you hire quality talent in less time. The site exclusively helps nationwide restaurants & hotels hire both management and hourly positions. The company is known for having the largest hospitality talent pool and sending clients pre-screened and vetted talent. Finally, the site has a network of millions of job-seekers, 100's of job board partnerships and other technical resources to support all sizes of hiring initiatives.
2) Culintro: Has a great NYC presence for restaurants. It's a professional organization – community and job board for the food/bev professionals in NYC. Culintro also has many industry events on their site along with 65,000 members, all passionate about the industry and are looking for jobs that will help them grow in their career.
3) PoachedJobs: Seattle based job board for the restaurant and hospitality industry.
4) CulinaryAgents: Similar to Linkedin this is a networking site for food, beverage and hospitality professionals. They also have job matching as well.
5) Hcareers: Mostly a hotel based job board and hiring site. Hcareers offers an array of products for the hospitality industry – ATS's, recruitment products, career fairs, advice, and job postings.
6) HospitalityOnline: a hospitality based job board.
Broad Industry Job Boards & Hiring Sites:
8) Proven: Designed for small businesses who need to hire on the go. This site allows you to post automatically to over 100 different job boards.
9) Workpop: A great place to post jobs to hire hourly staff.
10) PostJobFree: A very affordable solution to post open jobs. You can post free jobs or pay a small budget to get your job openings advertised to 50+ job boards. PostJobFree also has a resume search engine as well for you to browse candidate resumes.
11) ShiftGig: An ideal site for candidates to find shifts and employers to fill shifts. Great for hourly type roles – servers, bartenders cooks, customer service, warehouse, etc.
12) Snagajob: A great resource for hourly staff. With Snagajob, you can Screen applicants. You can also filter and track with their Applicant Tracking System.
Other Resources:

13) Free job posting and resume search websites. We published an article on these 12 FREE Resources you can utilize.
14) Local newspaper ads and classifieds.
15) Social Media Advertising – Facebook, Twitter & Linkedin.
I hope this list of restaurant job boards and hiring sites was helpful!
Was anything left out?
We like to keep this content as fresh as possible, so go ahead and comment below if we missed anything or any of your feedback. Are you a restaurant recruiting for top talent? Do you need rockstars? RestaurantZone helps restaurants, hotels & hospitality hire the right talent. Learn more here. Or call 1-800-513-5096 to speak directly with one of our seasoned recruiters.
74924 total views, 4 today