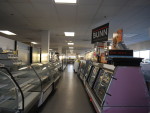 Field Trip – National Restaurant Equipment & Supply…

A few days ago before Thanksgiving, I had an awesome opportunity to check out National Restaurant Equipment & Supply (NRES)  in Laurel, Maryland. I got the grand tour from the owner Parviz Tavakoli.
The Showroom
When first arriving I walked through the showroom, which was very clean, neat and full of restaurant equipment. Isles upon isles of refrigerators, kitchenware, freezers, deli cases, coffee urns, coffee machines, tea urns, scales, and so much more. The amount of inventory they had was very impressive.

The company itself is one of largest restaurant equipment dealers in the Mid-Atlantic and does a lot of its sales in person. It takes a more traditional approach and although they are more than capable to sell nationwide or farther from home, they do a lot of business locally. Which is why the showroom was the first place I was able to explore, and able to see a bunch of different customers that had stopped by to check out the showcased restaurant equipment.
The Warehouse
After getting the tour of the showroom, I also got to explore the warehouse. Which was chalk full of even MORE restaurant equipment and related supplies. The quantity was pretty remarkable, with all sorts of chairs, older machinery, and even some food trucks. It was pretty cool to see all this stuff in one area, and how much inventory the company has. Clearly, has a lot of assets and potential to sell all sorts of product.
Some more items
The company gets a lot of its equipment from different manufacturers, and also buys up equipment when a restaurant is going out of business. When a restauranteur needs liquidity and cash, NRES can help with buying the equipment off of the restauranteur who is in need for liquidity.
Seeing all this equipment was pretty eye opening and learning more about the industry, definitely interesting and I think our site can help more with providing companies like NRES with online exposure for their restaurant equipment inventory.
7159 total views, 1 today