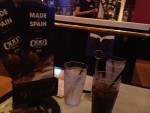 Review of 100 Montaditos Lower East Side
Where do I begin?
First, the restaurant just opened recently right next to where I live on 177 Ludlow Street.
Second, I am huge fan of all Spanish food, so readers beware this is going to be the most biased review ever.
Third, $1.50 for montadito? Are you kidding…
When I first walked into 100 Montaditos, I had really wished they were open for the world cup! It was the perfect bar for a soccer game. Additionally, I wasn't really expecting it to be 'fancy' Spanish food, but a fun place to grab a bite (it is a large sports bar basically). For all you food snobs though, you are clearly missing out. But thats okay more food for me!
Anyways, when you first get there beware you have to fill out a form of what you want and hand it to the bar. But before you do that you are given a super extensive menu of…you guess it, of 100 Montaditos (small sandwiches) & tapas.
The menu can be a little overwhelming but is certainly jammed packed with variety, and gives you a reason to come back and try more! The majority of the menu is made up of 'montaditos' which comes from the word 'montar' ('to mount'), because small slices of bread are topped or mounted with various delicious ingredients. Also, I remember a friend telling me that in Spain, a lot of people will bar hop from bar to bar and eat these montaditos (each bar has different types of sandwiches and styles of montaditos). Click here for more on the 'history/background' behind these montaditos. I honestly, had wished I had gone to bars like this when I travelled to Madrid and Malaga, they seem so fun!
The food
Once you get through the menu you can then write down your orders. For myself, I decided to go pretty crazy with the tapas and tried a few montaditos for two. I ordered the following:
-2 orders of Chicken Croquetas
-Patatas Bravas (not pictured below)
– Tabla Espanola (assorted meats, manchego cheese, and bread)
-Montadito (meatballl & manchego)
-Montadito (jamon Serano & manchego)
The food was great and servings are large! It was really reasonably priced and I came there very hungry and left very satisfied (with even some food leftover)! I really enjoyed the mayo sauce for the chicken croquets, those fried balls of goodness really hit the spot. Additionally, the assorted meat plate…what's there not to like? I am a sucker for manchego cheese and jamon serano so that was really the end of me. Patatas Bravas had a great mildly spicy sauce, that satisfied my spicy tooth.
As for the montaditos, I had never had them before and…they were GREAT! Perfect small sizes and were like miniature snacks that came with a side of chips. I really liked the meatball and manchego one in particular, great combination. All the food was fun finger food and made for a really epic dinner. I had worked out before so I felt pretty guilt free after the meal 🙂
So if you ever hungry swing by there place, I mean its only about a $1.50 for montadito, you might as well give it a try. There address is below.
100 Montaditos Lower East Side
177 Ludlow Street
New York, NY 10002
http://us.100montaditos.com/
That's all for now!
4978 total views, 2 today