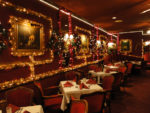 People enjoy gathering to eat, especially over the holidays or while out shopping for friends and family. You want to encourage as many guests as possible to stop in your restaurant as they are visiting with friends or out and about running errands for the holiday season. Text messaging can help you grow as a company, connecting with loyal customers in a deeper way and enticing new visitors to try out your food. Here's how:
Ease the Holiday Rush Hours
Are people trying to get their shopping done near you? Increase your traffic and decrease your frustrated patrons by offering an automated text messaging service for longer wait times. When your wait time goes beyond 20 minutes, you can simply offer guests the option of getting a text alert when their table is ready. This allows guests to wander the area and continue shopping rather than sitting and waiting. Your patrons will have a better experience, you will have fewer guests scared away by large waiting crowds in your lobby and you will improve the entire atmosphere of the restaurant when you give your guests the freedom to roam. Of course, you will want to set a cap time on how long you will hold the table (10-15 minutes) so that they have time to get back but won't wander too far from your restaurant.
Market Your Events and Specials
SMS marketing for restaurants can be a great way to keep people thinking about your location. Get users to sign up by offering a value, like a coupon for free appetizers. Then, send out occasional reminders of special holiday dishes, holiday gift card deals or offers for holiday reservations in order to keep your restaurant fresh in their minds. You want to increase engagement by offering them tidbits without overwhelming them. Too much contact can start to feel like spam.
Highlight the Holiday Aspect that Sets You Apart
It can be hard to increase your traffic during the holidays if you aren't located near a shopping center, however texting strategies can do just that in an unconventional way. Become the holiday place to be, just like a sports bar is the ideal place to go watch a big game. Offer holiday events that you market through welcoming text messages. Create the kinds of activities that will get people excited about your location and in a holiday spirit. Use your strengths, like location, extended hours, staff or menu to set your location apart and make it the place to be. Use text messaging to also get feedback and see what guests thought of your special events for the holidays. You want to know how you can improve to bring in a continued flow of visitors every holiday season.
Boost Slow Traffic Times
Use text messaging to bring in customers during the times that are typically slower. You can offer coupons, freebies or discounts that are valid during the times when you tend to have the slowest traffic. You can even set up special deals when your contacts share their deals with their friends and bring in new guests for the first time to increase new traffic.
Don't devalue your brand by offering too many discounts or spamming your customers with unwanted contact. Make sure your texts are efficient, valuable and well-spaced to keep guests from feeling negatively about being on your contacts list. Use texting to make it easier for guests to enjoy their time at your location this holiday season.
For more information on how your restaurant can boost traffic during the holidays, click here to check out the ultimate SMS marketing guide for restaurants!
Author Biography:
Joel Lee is the SEO marketing specialist at Trumpia, which earned a reputation as the most complete SMS solution including user-friendly user interface and API for mobile engagement,Smart Targeting, advanced automation, enterprise, and cross-channel features for both mass texting and landline texting use cases.
4153 total views, 1 today