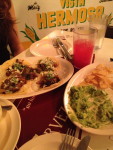 El Presidente NYC Review
Hello fans. Just recently dined at El Presidente in the Flatiron district. So I thought this would be the perfect time for an El Presidente NYC review of the restaurant. A few things to note before I crack into it. I have dined here a few times, enjoying it each and every time. The review I am going to write is based off of when I went during the week (a Thursday, I believe), at about 7pm. I am no food or restaurant expert, just a normal dude who likes good tasting food…so take this review as you will!
Okay now that, that is out of the way on to my El Presidente NYC Review, Here are the takeaways: 
When you first walk in you are immediately drawn in by the decor, and it feels like a "kitchen", you'll have to see for yourself to know what I mean. I guess you can call it traditional Mexican style decor?Also in the front there is nice bar with white chairs at the entrance and a tortilla machine in the back. The machine is pretty cool because you can actually watch them make their own homemade tortillas, very awesome!
I did not make a reservation that night and was able to get a table for two. However, I will note that when I went (Thursday at 7pm), the restaurant was full. It is a big space with a pretty decent amount of seating, and it was pretty packed. I always take this as a good sign!
For starters I ordered some chips and guacamole and a freshly squeezed pineapple juice. To say the least I was very pleased when it was brought to the table. I have never been served so much guac and chips! The portion size was incredible, and lucky for me I had a companion to help me finish this. The taste was good, not the best I have had but definitely above average. For that size you can't really complain. Also, the fresh pineapple juice and watermelon was awesome, really hit the spot on a hot summer night.
On to our entrees, or more specifically the tacos (we ordered a bunch). My favorites were the smaller tacos carinitas (pork) and the larger taco – battered fried fish ones. Glory. The carinitas had an explosive taste to them and really hit my taste buds. The seasoning was incredible and was by far my favorite. I also like how the restaurant also includes grilled up amounts of onions and jalepenos to add to your carnita tacos, I am big fan of adding an extra kick to my tacos. The battered fish was also delicious, and had a green tasty sauce. The steak I wasn't crazy about, I mean it was good just not as good as the carnitas. Next time I got back I am sticking to the carinitas and fish.
Take a look at the picture below of the meal. Here is the menu if you want to see info on the dishes.
That's all for my El Presidente NYC Review. Check out my other reviews at my blog and feel free to let me know what you thought of this place or any other feedback!
2550 total views, 1 today