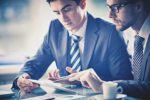 For many operators of independent restaurants, retaining the services of a restaurant consultant becomes a necessity. Independent restaurant entrepreneur's often focus on finding the capital to develop the venture, finding the ideal location, creating the perfect concept, putting together a great team, and marketing the business. However, after all that is done, most restaurant businesses fail. The operators realize they didn't know as much as they should about all aspects of their complex, multifaceted business, and all those moving parts. A good restaurant consultant will not only bring to your store ideas and solutions, which have been successful in other operations, but they will also add a great dose of leadership coaching. For the results to be sustainable, the consultants need to be good teachers for the proper guidance.
Restaurants need the right vision and the right coach to point out their opportunities. The consultant teaches the operator to harness all the talent of the staff and produce sustainable results. The consultant needs to help you with consistent coaching and mentoring to achieve the desired results and that's the key – Sustainable Results. That's all that matters, producing sustainable results!
The restaurant consultant becomes a coach to the business, adding an essential ingredient into the restaurant – a healthy, sustainable "Hospitality Culture". The employees are the most important asset of any business, let alone a restaurant. It takes happy employees to create happy customers. The employee experience drives the guest experience, which drives guest loyalty, word of mouth, and in turn, sales. Improve the leadership skills to create a quality working environment and build a culture of excellence and accountability.
When the consultants coach and mentor with great leadership and guidance, the restaurant will discover the positive change being implemented in the business. What should be left behind is a positive and productive team.
Michael is a Restaurant Consultant who provides clients with management consulting, coaching, hospitality recruitment and operational & business consulting services. He is a 25-year veteran of the Hotel, Restaurant and Hospitality Industry. Previously, working as a Director of Operations for a popular, chic restaurant chain in Philadelphia. There he played an integral role in developing their vision and core values as well as being accountable for the company's talent acquisition and team building. Get a FREE consultation with Michael. 
3446 total views, 1 today