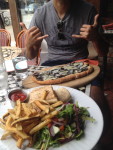 Nomad East Village Review
Recently I had lunch at Nomad in East Village, NYC for my cheat day -click the link to find out what this is 😉 – Anyways, typically during the week I eat a low carb diet and on Sundays I have a cheat meal, and this weeks target was none other than Nomad in the East Village, a perfect candidate. Well enough about my diet (I'll be writing a blog post on it soon and how I lost 15 pounds of fat)… and on to my restaurant review.
So a little about me before I dive into writing this review. I am not a restaurant connoisseur I am just simply a man in his mid-twenties that enjoys good meals. I travel a lot so I have a weakness for good eats, and ethnic foods so take this review however you like.
So on to my Nomad East Village Review, here are my takeaways: 
The cuisine to me was similar to Mediterranean and has that sort of North African flair to it (Moroccan, Algerian, etc). Great mix.
Seating outside is MONEY especially during the summer. I went on a saturday mid afternoon, around 3pm, and the place was not packed. Pretty awesome since I got to sit outside and catch up with an old friend. Seating is great, and a bit farther away from the street…perfect for people watching.
Portion sizes are pretty ample, I split 2 dishes with my friend and it was more than enough!
What I ate (I split these two dishes with a friend who can eat a lot, see pictures below):

Nomad Pizza – really delicious, I think the bread was homemade. What really made this dish for me was the bread. Yum. The pizza had sharp provolone and portobello mushrooms, a great mix. Perfect way to load up on my carbs and satisfy my craving for pizza!
Merguez Sandwich – Had this amazing sausage in it, packed with tons of flavor. I highly recommend this for lunch. The sandwich was on home made bread with chakchouka side of French fries and salad. Fries were awesome, I am sucker for good french fries, fried nicely.
Well, thats all for my Nomad East Village Review but if you have any questions or feedback let me know. I will be writing a new restaurant review everyday I have a cheat day (typically on Sunday), so look forward to that.
3938 total views, 1 today