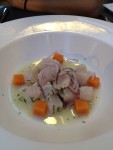 Raymi NYC Review:
http://www.rayminyc.com

I recently dined at Raymi Peruvian restaurant in the Flatiron district in New York City for dinner. I did not make a reservation to the restaurant but simply walked in. The restaurant wasn't too packed and had a large inside space and seating outside. It was a nice day out so I decided to sit outside, I mean why not right. The inside of the restaurant is pretty chic/trendy, and is dimly lit. Inside the restaurant there were high ceilings and ropes hanging, not to mention the very nice pisco bar! Some areas of the restaurant feels sort of "loungey" as well, probably not a bad spot to take a date 😉
Anyways, this is what I ordered:
The Corvina Ceviche: Was a delicious ceviche in a cilantro/lime sauce and white fish. The ceviche dish included sweet potato and red onion. The mix was perfect, loved the sweet potato and overall everything was VERY tasty. Also the dish was very light and was the perfect summer appetizer. I split the dish and the preparation/appearance of the dish was also very nice (see below).
For an entree I went for the Seared Salmon (large plate) and it was served medium well, cooked perfectly. I really enjoyed this dish  it melted in my mouth and I want to emphasize that it was really well prepared (not sure what the dark sauce it came in was, but it was great too!) Additionally, the dish came with interesting/traditional sides, which were plantains and a rice/lentil mix. Both delicious! I am a huge fan of Latin American food, so I am a little biased. However the rice dish was very interesting because it was extremely tasty (seasoned well), and parts of it had a 'crispy' texture. Perhaps they pan-fried some of it? Who knows, it was glorious though.
Overall, great meal. I would definitely return. I would say that it was a little pricey, yelp gives it $$$ ($31-60) range, which is about right. The only negative I would say was the service. Maybe because we were sitting outside? Then again the server was new, he told us it was his first day there….no big deal though, he was very nice and helpful. Anyways that's all for my Raymi NYC review, thanks for reading!
Take a look at the dishes I had –
5411 total views, 1 today