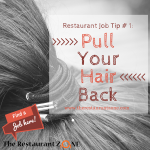 Restaurant Job Tips # 1: Why Pulling Your Hair Back Still Matters
Do you have a job interview at a restaurant in your area? Congratulations! You're on to a very exciting and fun-filled career. But first things first – best to check yourself carefully in the mirror. After all, first impressions last. Clean clothes? Check. Clean shoes? Check. Pulled back hair? Uncheck.
Then you wonder, why do have to pull back your hair, anyway? Many would-be restaurant employees apply with their hair down, so why should your hairdo matter?
How to Style your Hair at Work?
Yes, there are far too many applicants wearing the hairstyle of their choice, but here's a thought: restaurateurs usually prefer the person who has his/her hair pulled back. It's because the FDA specifically mandates food handlers in restaurants to wear hair restraints such as hats, hair coverings or nets, beard restraints, and clothing that covers body hair, that are designed and worn to effectively keep their hair from contacting exposed food.
Animal Handlers can Keep their Hair Down
Oh, but there are some exceptions, though, that is, if you insist on keeping your hair down. You can be hired as a animal handler for servicing animals like dogs, cows and horses or those which are used for food like crabs, lobsters, etc. (Maybe use your hair as a net to catch those crustaceans faster? Ouch!)
Government Penalties for Restauranteurs
No, but seriously, if you want to get hired in restaurants, pulling your hair back might just clinch the deal. You see, restaurateurs don't want to commit violations lest they pay huge fees to the government. Not to mention that such a small thing as a strand of hair can tarnish a well cared for reputation and stop them from doing business.
Mount Pleasant has already issued warnings to two restaurants regarding this issue: Jefferson Buffet and Whataburger. Mt. Pleasant Donuts, on the other hand, was shut down for three months due to unhygienic and unsafe food preparation and handling.
Other states are following suit. By 2015, South Carolina will be implementing "no bare hand contact" with ready to eat foods, along with hair and beard restraints for food preparers.
But these penalties pale in comparison once customers get fed up with unhygienic practices. It's a reflection of poor customer service, after all. Take a look at the following data:
For every customer who bothers to complain, 26 other customers remain silent.
Americans tell an average of 9 people about good experiences, and tell 16 (nearly two times more) people about poor experiences.
Over 1 million people view tweets about customer service every week. Roughly 80% of those tweets are negative or critical in nature.
Translation: It may be true that only one person might complain out of 26, but that one individual can tell 16 people about hair found in a restaurant's food; and can be read by a million people every single day. Call it character assassination or media assassination if you will.
So a restaurateur who eyes your laid down hair with wariness isn't hostile; he's merely protecting his interests. Do you still wonder why pulling your hair back matters?
Don't forget to go through our dozens of USA restaurant jobs at The Restaurant Zone's website.
The Restaurant Zone
Is Pulling your Hair Back a Big Deal?
9644 total views, 1 today