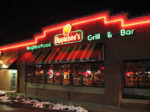 Applebee's may close over 130 restaurants that have performed poorly in coming months, though the chain's parent company also says it plans to open several dozen new eateries across the globe.  Read more here.
With the news of Applebee's closing restaurants comes a change in strategy as the restaurant chain gives up trying to attract millennial customers.  Read more here.
Key role dishwashers play in restaurant's success is finally being recognized.  Read this account by a newspaper food critic who joined the dishwashing crew to learn more about the work. Read more here. 
2559 total views, 1 today