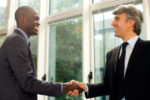 Retention starts with "Hello".
Your first impression as a candidate and hiring manager are immediately etched in each others psyche. As much as we want to believe we are not biased, our brains are always analyzing and processing "data."
Each interaction/experience with the candidate and hiring manager creates the developing discovery dialogue to move forward or stop in the interview process.
Interviewing is a 2-Way Street. Some highways are 2 mph and some are 100 mph.
A company with a good balanced interview process is going to be somewhere in the middle. Each interview should offer more insight to the day to day happenings at the company and giving the candidate more opportunity to share their true selves, too.
Companies who have an interview gauntlet as a process will lose many qualified restaurant staff and great candidates as easily as those companies who lack a sense of urgency to interview.
Inside the mind of a candidate as they start the interview journey…
This change of careers means new and different people will be Investing in my life. Along with my time, energy and my own investing who will I be dialoguing with as I make day to day decisions?
Who will I be partnering with?  Are the qualities represented going to impact me positively? Will it be the Dream Team? Or the Great Disconnect?
Will my work and the company/brand message be aligned? Or what really happens IRL?
I wish I could just say "Take me to your leader" then I would know more for certain.
Good Leaders will always have followers because of how they treat those around them. Does the leader help groom others, grow skills, share knowledge and as a person does he/she inspire me? Does he/she invest in people?
Who is the leader serving?  Am I aligned with the values of the leader and culture of the company?  Who is validating the messages?  Could I test the theoretical message vs. the actual testimonies?
And in a softer and quieter voice….
Can I trust what I am hearing?
Ask the Questions.
Who and What are the Foundational Partnerships in the organization?
Is there Intentional Involvement throughout the organization?
BE AUTHENTIC
As a candidate, the biggest question is "What do you want to be doing?"
Most candidates' honest answer is "Something I love, with passionate people who value and commit the same level of excellence that I will."
As a Hiring Manager dig deep into this question and share from a personal perspective exactly what the candidate needs to know to make a well rounded decision.
STOP.LOOK.LISTEN.
The best avenue to find the answers to your questions was taught to most of us as toddlers.
Exercise Prudence in the interview process and weigh your decisions carefully.  Both parties, Candidates and Hiring Managers need to evaluate if the decision to join together is a mutually rewarding relationship. For both parties to truly win and accomplish much together, the element of TRUST has to be cultivated and desired. It starts with the first conversation.
Is there a SENSE of BELONGING in the team and in the company? A Candidate will feel the vibe immediately, if it is organic and true or a fake pretense.   A Leader and Company that continues a culture of Belonging will always have a higher retention rate. Everyone wants to Belong and feel valued in their roles and with their teams.
True Leaders have ENCOURAGEMENT for Others and it's usually built with a story of humility.  A willingness to serve and be trained builds the character and lessons of the journey.  It's a journey and the continued development builds the leader that you are today and the one around the corner.
Make sure on your journey that you have mentors that stretch and grow you in the direction of your True North.
Let the Evidence Speak.
Make an Honest Decision that resinates with your Heart and from a place of Love.
This article was brought to you by Michelle Austin. Michelle, previously worked as a Talent Acquisition Manager at Brinker International, Manager at Darden and currently recruits restaurant staff and consults for top restaurant brands. You can find more about her by visiting her Linkedin page or by visiting her site www.myvipcareer.com .
2944 total views, 1 today