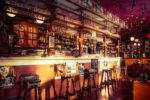 So You're Thinking About Selling Your Restaurant?
You've worked hard for years running your restaurant. Now it is time to cash in the chips and take some time off and go on some of those tropical vacations you always hear about from your customers!
But exactly what do you do to get top-dollar for your business? Here are ways to improve the price of your business and how to sell your restaurant.
First, people are buying an income stream that's verifiable and truthful. The more verifiable the numbers, the higher the sales price. So keep good books and records. Report all your cash. Pay all your taxes for a couple years at least.
Second, give the business a facelift. Nothing turns a buyer off more than seeing seats ripped, dirty floors, dust under tables and grime on the tables and floor. Pickup the clutter and straighten-out the counters. Add some special touches such as flowers and candles. If the walls need painting, then paint them. And get the ceiling clean as well. I recall going into a restaurant with ceiling fans. The fans were caked with greasy dust balls that were clearly falling onto people's food!
Third, Get the kitchen spotless and keep it that way. Get the hood system degreased and keep the grease trap clean. Nothing worse than smelling a dirty grease-trap to turn-off a buyer. Get the kitchen organized and keep the food pantry and walk-in cooler and freezer clean and well organized.
Fourth, secure your lease, but be smart about it. Leases usually hold the seller liable to make rent payments after the sale in the event the buyer defaults. Yes, 95% of leases contain language holding the seller liable after the sale. A buyer wants a minimum of 10 years left on the lease. But if your lease expires in a year, then you need to think the process through. If you renew it for 5 more years, then you're liable for 5 years. It is a tricky game to get it right because if you're landlord is tough and you don't renew the lease, he could kick you out at the end of the term and all value is then destroyed. You lose!
Finally, don't under-estimate the value of a good broker. He or she need the skills and experience to properly value your restaurant, to know its strengths and weakness, to know the area, to understand the lease and its restrictions on transfer, and know how to write intelligent smart ads driving buyers to your business. Sure, I'm going to say this because I'm a broker. But it is the truth. A good broker saves you money in getting top dollar for your business and doesn't cost you money. We're not real estate agents selling a house where we can run neighborhood comps to price the property. We're educated, trained and experienced professionals!
ABOUT THE AUTHOR
Mel Jones is the founder and CEO of SellingRestaurants.com. Mel is an accomplished merger and acquisition specialist having completed over $12 Billion of merger and acquisition transactions at the fortune 50 level as well as selling more than 600 restaurants. In addition to holding senior financial executive and Chief Financial Officer positions for multi-national corporations such as Universal Music Group, the world's largest music recording company and Nestle Foods, one of the largest food companies in the world, Mel has earned a Bachelor of Science degree in Business Administration with a concentration in Finance from California State University Northridge and he studied law at Gonzaga University School of Law. Mel is a veteran of the U.S. Air Force and the California National Guard. He holds a California, Arizona and Georgia Real Estate Brokers license.
Thank you!
4344 total views, 1 today