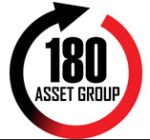 User Week: 180 Asset Group (Buys & Sells Assets)
We thought we would dedicate a blog post to user 180 Asset Group, a frequent user here at The Restaurant Zone. Beginning today we are going to start writing about some of our users and write mini-profile summaries about them, once a month or every couple of weeks.
So first, a little about 180 Asset Group for our readers and users. 180 Asset Group BUY & SELL assets so any of you restaurants or users looking to buy restaurant equipment or sell restaurant equipment (yes they do appraisals) , consider checking them out they might be able to help you!
Some of the assets that they typically buy and sell include:
-Retail store fixtures
-Gondola shelving
-Commercial refrigeration
-Warehouse equipment and MORE.
Additionally, 180 Asset Group offers orderly liquidations, auction and brokerage services, appraisals and valuations, retail store and building clean outs, remodel and relocation services, and more! The company is a team of HANDS-ON owner-operators, seasoned veterans with over 25 years experience in the FF&E (fixture, furniture and equipment) asset recovery and liquidation industry. So if you haven't already I would recommend checking out the 180 Asset Group website and feel free to get in touch with them as well at sales@180assetgroup.com
3336 total views, 1 today