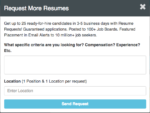 Curated Restaurant & Hospitality Talent at your Fingertips! 

We created "request more resumes", for several reasons. Mostly, because we wanted to allow employers & recruiters to view higher quality talent than traditional job postings. But, we also found that our client's needed to see more variety in candidates and needed extra assistance with hard-to-fill roles and locations. We noticed by having our team of virtual recruiting assistants ("resume specialists") for every user, hiring efforts would increase by 200%!

So, how does it work? Pretty easy actually, here are 3 Simple Step Instructions:

1) Login to your account, and click "resume search" on the left side of the panel.
https://therestaurantzone.com/resume/#/


2) At the top right click the button "Request More Resumes" and then you'll see a form that will popup (see image below).

Button looks like this: 

 

Form looks like this:
3) Fill out the form! Then click "send request" (see image below). Describe what candidates you need from us. Then our resume specialists will source candidates for you and email you back within the next 24 hours or sooner if we can. However, note that responses can take up to 3-5 business days, or a bit longer depending on the role and location.

3745 total views, 1 today