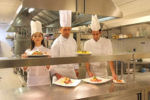 4 Restaurant Insiders share how they've manage millennials and Gen Zers in the workplace without sacrificing productivity.
Millennials—and their younger cohorts just entering the workforce—sometimes get a bad rap in the workplace. "On the podcast 'Hugh Acheson Stirs the Pot' Hugh Acheson and Tom Colicchio nailed it, stating that 'the younger chefs think they should already be chefs within two years of cooking, and they think they can get there at 35 hours a week—and still go to concerts," says Brian Poe, the Boston-based chef and owner of four restaurants, including the Tip Tap Room and the Parish Café.
And it's not only chefs. Hourly wage earners and managers, in fast food chains or smaller venues, know that restaurant jobs (at least for now) are plentiful, and they don't have to do the time if the workplace doesn't suit them. So how do restaurant pros manage their 20-something employees so they're willing to stick around? We talked to four industry insiders to find out how they did just that.
Christopher Pickard, Field Leader, Chipotle Mexican Grill, Miami/Ft. Lauderdale area
His background: Among other titles, Pickard was the director for Carrols Restaurant Group, overseeing and directing the operations for 75 quick-serve restaurants in Indiana, Kentucky, and Illinois.
What he noticed: What younger workers didn't want was just as important as what they did crave, says Pickard. "When I got a job in the '80s, it was super important to have health insurance, and life insurance, and start your savings plan. Those are not enticements now. These folks want the money in their pocket because they want to be able to liberally spend and enjoy their lives," he says.
How he managed his workers: "We just tried to focus on some very core things for our entry-level tier of quick-serve managers. We paid them $14 or 15 an hour, understanding that there are bragging rights when you're paid $15 an hour. We left insurance off the table because they weren't going to take it. We tried to be as flexible as possible. In some cases, we'd need three hourly managers where you might have two because they each want to work two nights and they want a weekend off. If you don't do it, they're going to go somewhere else or they're just going to take the time anyway," he says.
What he did to maintain loyalty: "We treated these guys as if they were salaried people. They got to participate in the bonus program. The promising ones went to the training seminars and workshops that we have," notes Pickard.  "At the one-year mark, if your attendance was good and your performance was good, you got the offer of the salaried position with the health benefits if you wanted it, or you could stay status quo as an hourly employee and continue to work more of that flexible lifestyle. None of this is revolutionary. It evolved over us understanding that if we were going to have workers, we were going to have to adapt."
Pamela Fazio, CEO of Beard Papa
Her background: In her 20 years in the restaurant business, Fazio has been a vice-president of operations, southwest, for J & A Foods, a senior market leader, southwest, for Papa Murphy's International, and a director of operations for various restaurants.
What she's noticed: Although she doesn't like to generalize, Fazio admits that she's seen a lot of job-hopping in this newer generation of workers. "They're always looking for the next best deal," she says, whether it's more vacation or weekends off. "So it's crucial to figure out how we're going to hold on to those employees and a groom them because they're going to have the ability to go to a different company. I think that people my age were looking for the higher salary and title, and I don't think generally that's what they're looking for anymore."
How she has managed her employees: "I think it's extremely important to build out a plan and train properly to make sure that employees can execute that plan to hit the goal so that you can get them to the next level of their success. For instance, I a regional manager who wanted to go to a brand president role. So we set up goals and criteria over a three-year time frame. And we made sure that he crossed those dividends in the sense of raising sales, driving profit, all of the variables of the industry of what he needed to hit in order to take over the brand president role," she says.
What she did to maintain loyalty: "What you always want to do is establish what an employee's end goal is and so that creates a bench process. So in six months, if workers hit these goals, they feel great about themselves, then on top of it, you're making sure that they are getting a bonus or something tangible for accomplishing those goals," explains Fazio.
"When you create a bench process, you're going to create loyalty. People want to feel needed and feel like they're succeeding. So I think it's extremely important to tell people when they are successful, show that and then on the objectives where they are not, that's where training and educating them and making sure that they have the proper tools to succeed are there."
Brian Poe, Chef/Co-Owner, The Tip Tap Room
His background: Poe worked as a chef in restaurants in Atlanta; Scottsdale, AZ; L.A., and Boston before opening his own restaurant the Tip Tap Room in Boston in 2012. He now co-owns three other restaurants in Boston.
What he's noticed: "We wanted and had to work 80 hours a week and climb to the chef title via the stairs rather than the elevator.  This generation of chefs has different goals and work ethic, but that is not necessarily a bad thing. In a very good way portions of the unreasonable overload of hours of generations past are gone as chefs and owners try to provide a healthier mental and physical environment to work in," he says.
How he's managed his staff: "We do our very best to give an almost set schedule so that life can happen with cooking," says Poe. "We also keep a calendar on the wall for the front-of-house younger managers. There's sort of a verbal thing going in the kitchen where if you want to go to the show or celebrate with your husband or wife, then you get the shifts covered and go have fun. A lot of times the cooks will sort it out among themselves and they will as a crew point out to each other if one of the cooks or managers are taking too many Saturdays off. Every so often I have to step in to settle the matter, but mostly the crew these days handles things respectfully between one another.  "If there is a poor performer, they weed themselves out well before I have to have to get involved."
What he's done to maintain loyalty: "I think paying a little more, respecting the personal life of the employee (days off), encouraging growth, and encouraging education are extremely important.  As I get older, I have shifted my focal point toward teaching younger cooks so that they too can travel, cook, and learn. The more they travel and learn, the more I get to learn from their education. I've learned to adapt to them, and they grow to adapt with me. I've learned that I can't have my career without developing their career. I can't be successful if I don't provide the cooks with an opportunity to succeed," he says.
Shelley McMurray, Hospitality Recruiter at RestaurantZone 
Her background: McMurray spent nine years as a restaurant manager at P.F. Chang's before becoming a recruiter for various companies, including most recently the Restaurant Zone.
What she's noticed: "Millennials want knowledge. They want development and growth. They also want to be included, they want to feel like there's some transparency, and they want some instant gratification," she says. "What I've seen, and what I've heard a lot recently with candidates, is that they feel like a carrot is being dangled in front of them, which is really great because their employers are trying to keep them engaged with promises of career advancement and growth. But then the employees always feel like that that carrot is being moved just a little bit out of their reach, and the employers aren't fulfilling their end of the deal," she explains.
Her advice to managers: "I would say don't make promises that you can't keep or at least explain why it's not going to happen," says McMurray. "It's better to say, 'Listen, I want to do this. Maybe I can't do it right now, but I know you deserve it, and let's find another way to get there.' False promises aren't going to get you anywhere. Instead, be creative, and start investing not only from a work perspective, but develop this generation from an intellectual perspective—how can they do it better than what we've done it in the past. Because one thing about the restaurant industry is that we always morph, change, and adjust, and there's always new exciting trends that are happening. We've got to make those adjustments on an HR level as well to do it even better."
20515 total views, 1 today